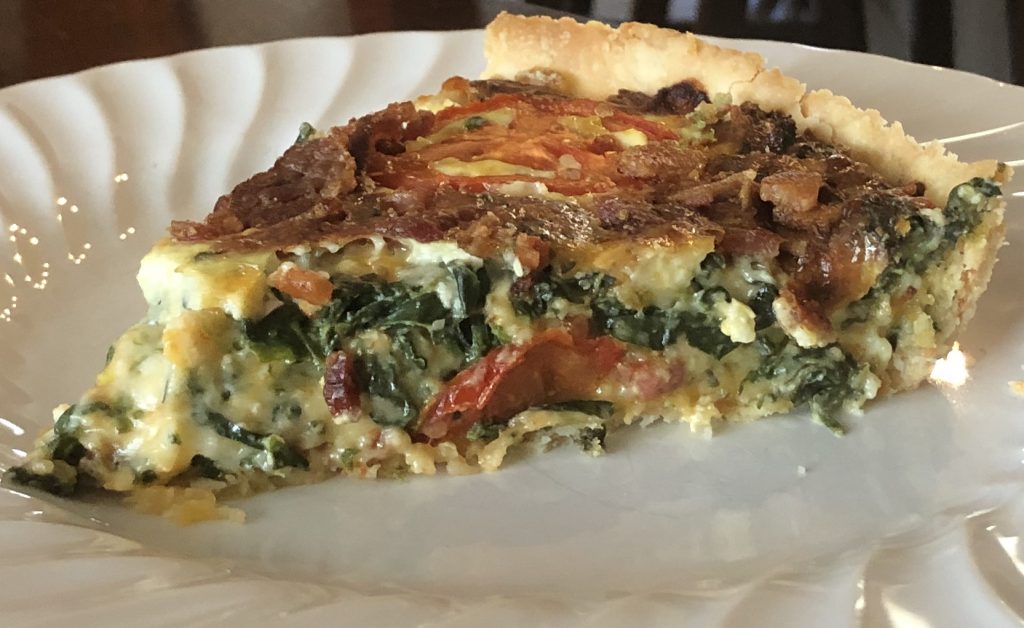 This quiche is a staple on our regular menu. I've been making it so long I have it memorized. It serves up as a perfect brunch item, as well as breakfast, lunch or dinner. (Or as we say in North Dakota: breakfast, dinner or supper). So Good.
To make your crust cut 1/3 cup of vegetable shortening (I use Crisco) into 1 cup of flour. Add about 1/4 teaspoon salt. I like to use a fork to make sure that the shortening and the flour is finely mixed. Add 3 serving spoons of water to the flour and shortening. You'll do this one spoonful at a time mixing it into the flour after each addition. I add the water to the edge of the bowl and blend toward the center.Continue mixing. Finish mixing using your hands to bring dough together into a ball.
Remember to sanitize your hands or wear disposable gloves.
Place the dough on a floured surface and sprinkle with more flour as you roll it out. Roll it large enough for an 11 inch ceramic quiche pan. If you don't have a quiche pan a deep dish pie pan will work.
Spray the pan with non-stick spray and carefully move the rolled dough into the pan. Bring the dough to the edges of the pan and press around and up the sides. Trim off excess dough by pressing with the tines of a fork.
In a large mixing bowl measure four cups grated cheddar jack cheese. Stir in 4 tablespoons flour and blend. Squeeze liquid from a thawed small package of frozen spinach. Add spinach to the cheese and fold to mix. Into the cheese mixture add 3 large whipped eggs and 1 cup of milk. Mix well . Blend in 4-6 slices of crisp fried thick cut bacon that has been chopped. Reserve some of the chopped bacon for the top of the quiche.
Pour the mixture into the unbaked crust.
Liberally top with grated Parmesan cheese, thin sliced Roma tomato slices and the remainder of the bacon. Place in a 375 degree pre-heated oven for 1 hour. Let rest for 5 minutes before serving.
TIPS:

You can use this basic quiche method for making quiche and changing up the fillings and types of cheese you like. Try it with mushrooms, shrimp, shallots, etc.
If you don't want to make a pie crust, refrigerator crust will work. – But keep practicing making crust. It took a lot of years of failures until I got it right.