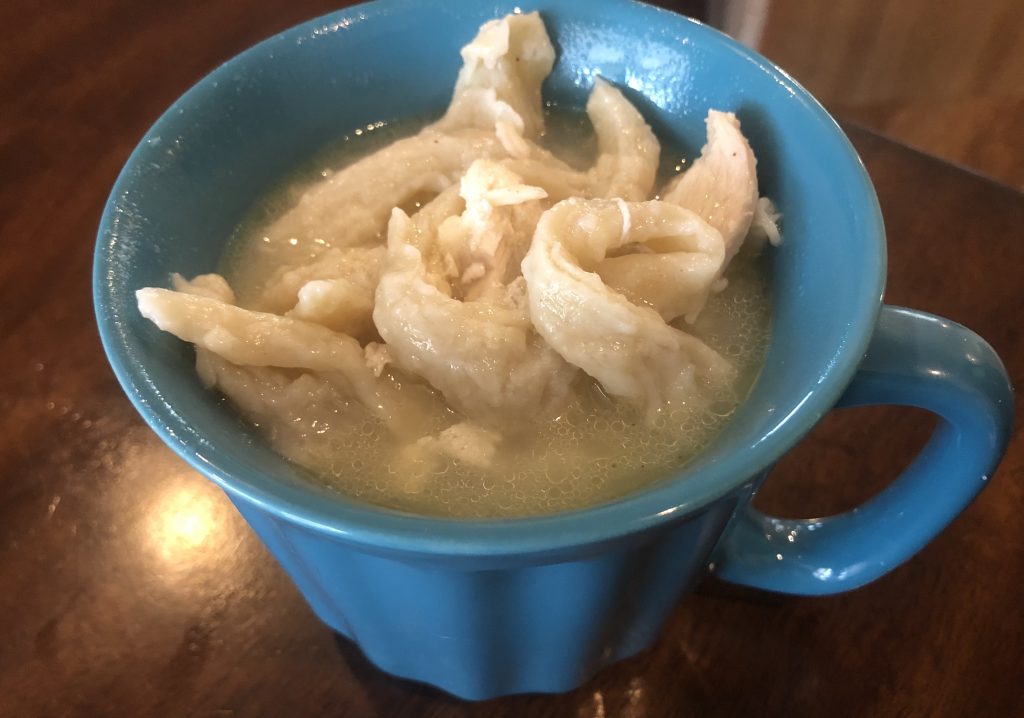 In one of my old recipe boxes is a letter. It's tattered, faded and worn from the 40 or so years it been there. The letter came to me the first time I lived in North Dakota. It was from my beloved Great Aunt Creasie.
In the letter she gave to me the steps to make her Old Crooked Noodles and Chicken.
I now know by heart how to make this family favorite but still I take out the letter and read it again when I think about making them.
She told me that she once tried really hard to make straight, pretty noodles but her grand babies didn't like them. "Oh no Nana, we want your old crooked noodles," they said. Thus the name. . .
It has become Craigo Clan tradition to have the noodles on the first day of school. Even with the unconventional school openings this year, we're still having noodles during the first week of the virtual school year.
Here's my version. . .
I boil two large chicken breast in salt water. When cooked through, I remove the chicken from the water and cut in small pieces. Set aside. Save the water, it is the beginning of your soup stock.
Aunt Creasie said to every cup of flour cut in shortening about the size of a walnut. I usually do three cups of flour, and 3 walnut size shortening. To the flour and shortening add 1 whipped egg for every cup of flour and some salt. Mix together. Add 9 serving spoons of water (3 for every cup of flour) to the mix 1 spoon at a time. Stir into the flour after each addition. It works best to add the water at the side of the bowl and stir toward the center to mix. Using your hands, finish mixing the dough into a ball. Break off a portion of the dough and place on a floured surface. I use my Bethany Pastry Board along with my flour shaker and my Mama's old wooden rolling pin to roll the dough into a circle about 1/8th inch thick.
Keep sprinkling the dough with flour as you roll it. When it's rolled out sprinkle it again with flour and then roll it like a jelly roll. Starting on one end slice off about 1/4 inch noodles. Repeat with remaining dough.
Unroll the noodles. You might want to break them if too long.
Add to the water where you cooked the chicken 1 32oz carton of chicken broth. Bring to a boil and drop in the noodles. Gently boil the noodles for 10 minutes. When noodles are done, add the chicken, 2 tablespoons of real butter and salt and pepper to taste.
TIPS:
Left over roast chicken works well too. You'll cover it in water in a big soup pot and boil so as it comes off the bone. Discard bones and skin.
The noodles should be soft , thick and chewy like a dumpling.
Its a big pot of soup, so you need to add quite a bit of salt and pepper to pop the. Be careful not to overdo it.