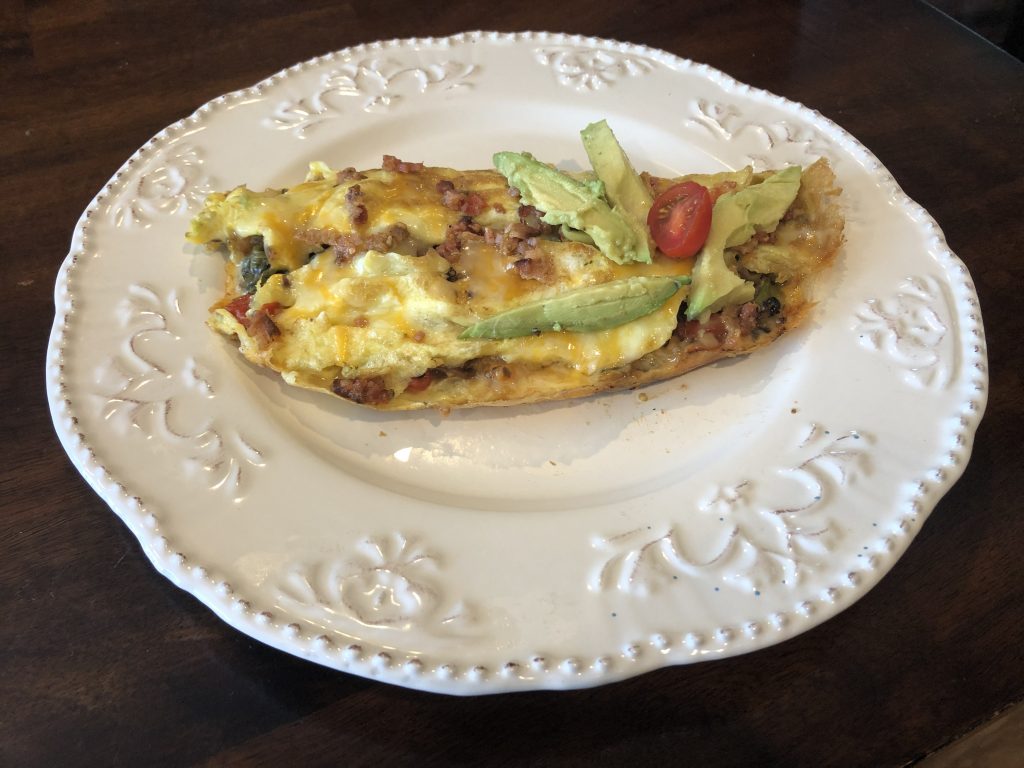 Making an omelette isn't hard. Don't be afraid to try.
Some folks think you need a fancy omelette pan. Not true.
I use a 9" Round non-stick skillet. I prefer a copper bottom pan.
Although a pan may be called non-stick, I still spray it with cooking spray to insure easy lifting of the omelette.
Once the pan is hot, turn the heat down to medium high and pour in beaten eggs. You'll need to swirl the pan so that the eggs spread out to cover entire bottom of the pan. As the omelette begins to set, begin lifting the edges of the omelette and slightly tipping the pan so that the eggs can go to the edges of the pan. Repeat this process until eggs are nearly set.
You should arrange your filling across one side of the omelette and then carefully fold the opposite side over to cover the filling. Continue to cook until totally cooked through. I usually turn down the heat and cover the pan. If you've prepared your pan with non-stick, the omelette will easily slide right onto your dish.
BACON, CHEESE AND VEGGIE OMELETTE
This recipe will make 2 nice size omelettes.
YOU'LL NEED
5 Large eggs
4 Strips Cooked Crisp Bacon
5 Brown Mushrooms
5 Cherry Tomatoes
1 Green Onion
1 Tiny Red Pepper and 1 Tiny Yellow Pepper
Canned or Frozen Spinach(drained)
Shredded Cheese
1 Small Ripe Avocado
In a medium size bowl whip the eggs with a wire whisk. Set aside. Chop the peppers, onions and mushrooms. Spray your skillet with non-stick spray and heat. Place the vegetables and about 1/4 cup spinach into the pan and sauté until tender. Remove from pan and set aside. Using a paper towel, wipe out the pan, re-spray the pan with not stick spray and return to a medium-high stove.
Pour in half of the eggs and proceed with the omelette cooking method.
When it's ready for the filling, start first by sprinkling the omelette with shredded cheese, top with sauté veggies and then chopped tomatoes and bacon. Remember you are arranging the filling on one edge of the omelette.
Gently fold the omelette over and top with shredded cheese. Remove from heat, cover the pan and allow cheese to melt. Serve with a garnish of sliced ripe avocados, chopped bacon pieces and diced cherry tomatoes.
VARIATIONS:
Be creative. You can fill the omelette with a variety of fillings. For example; try adding cooked shrimp or crab, chopped tomatoes, chopped shallots , shredded white cheese and fresh basil. This is especially nice for a brunch.
NOTE:
The reason to sauté vegetables is so that they are not cold or raw when you bite into the warm omelette.
TIP:
Your omelette making experience will be much easier if you have all of your ingredients prepped, chopped and at your fingertips prior to cooking.