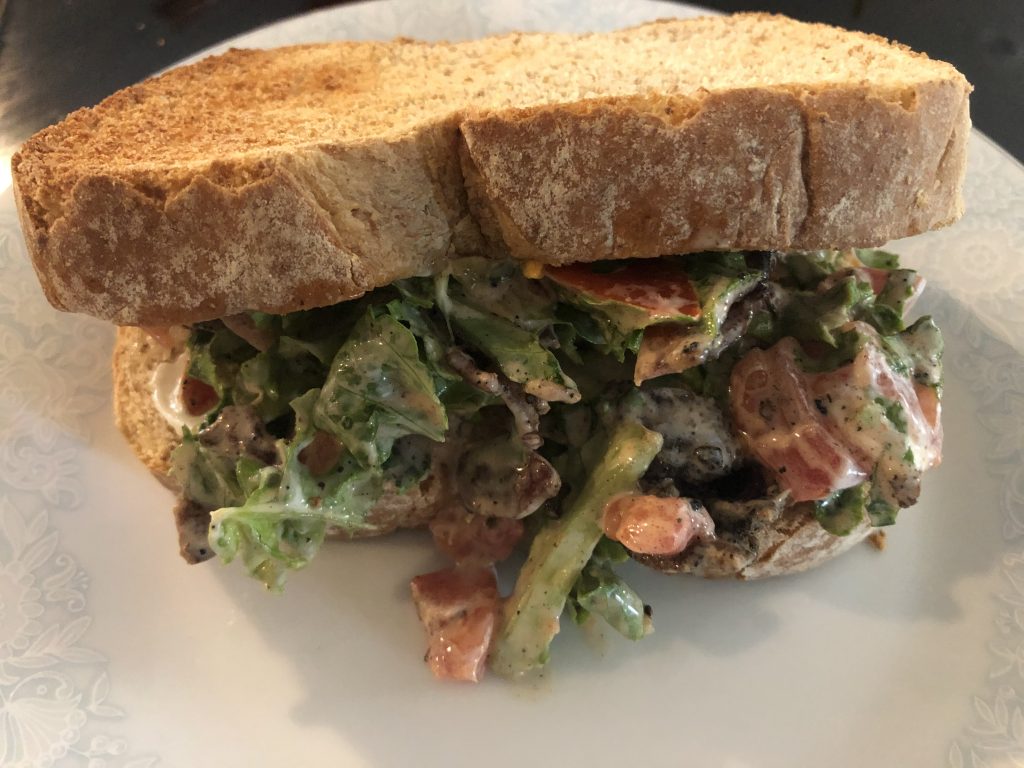 This is a great way to make Bacon, Lettuce and Tomato sandwiches. Stepping away from the traditional stacked method, I've instead made a sandwich filling by chopping all of the ingredients.
Summer is the perfect time of the year for this treat because we have fresh garden lettuce and tomatoes ripe for the picking.
Using my handy pull-chord chopper, I chopped one sliced Roma tomato, 4-5 strips of crisp cooked thick bacon and about 3 leafs of leaf lettuce. Mix in a large bowl and add a little Thousand Island Dressing to bind ingredients together.
This sandwich is especially good on toasted thick sliced artisan bread.
Spread a little Real Mayonnaise (remember I always use the real stuff – no salad dressing for me) onto the toasted bread and pile high with the BLT filling.
This will make 2 big DELICIOUS sandwiches.

TIPS:
I usually cook a pound of bacon at a time. Cooked bacon can be stored in ziplock pages in the fridge. It is ready to use for any dish where bacon is added.
In the summer, I cook my bacon outside on the barbecue grill. It eliminates the mess and the lingering bacon odor in your house.
VARIATION:
Instead of using bottled Thousand Island Dressing, make your own.
Mix together 1 hard boiled egg (peeled, cooled and chopped), 1 cup real mayonnaise, 1/4 cup catsup, 1 tablespoon dill pickle relish and 1 tablespoon lemon juice. Salt and pepper to taste. This also can be kept covered in the fridge for later use.
NOTE:
You can substitute sweet pickle relish for the dill. You may want to add more catsup or lemon juice according to your taste.