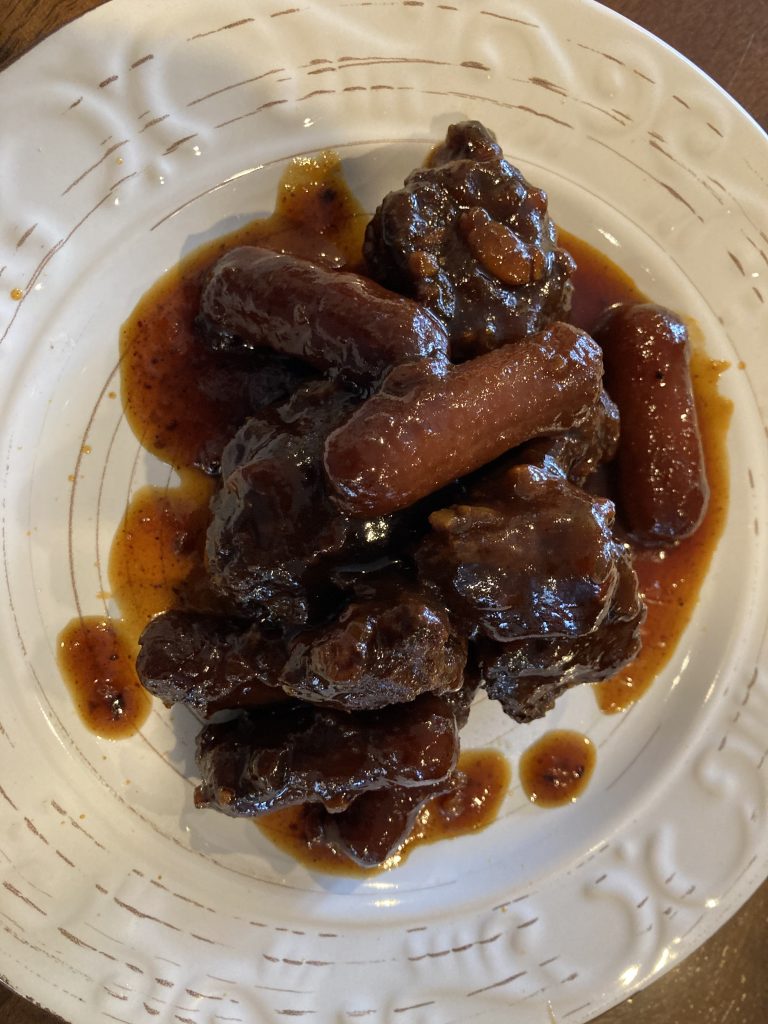 These are delicious and all ingredients can be prepared in advance so they're easy to serve when needed.
Meatballs
1 pound ground beef
1 egg
1/4 cup milk
1/4 cup finely ground crackers
2-3 tablespoons chopped leeks, shallots or onions
1/4 cup chopped red and yellow mini peppers
1/4 cup shelled roasted sunflower seeds or pumpkin seeds
1/2 teaspoon smokey paprika
1/2 teaspoon spicy sea salt
1/4 teaspoon coarse ground pepper
In a large mixing bowl crumble beef. Add leeks, peppers and seasonings. In a separate bow beat egg and milk together. Add egg and milk and cracker crumbs and seeds to the meat. Use your hands to combine and then shape into desired size meatballs. 
Set the air fryer to 400 degrees and preheat, with basket in for a few minutes. Place meatballs in the basket and air fry with lid closed for 14 minutes. Remove from fryer and let cool. Place in a sealed freezer bag and refrigerate or freeze until ready to use.
Homemade BBQ Sauce
In a medium saucepan combine 2 14oz cans of tomato sauce, 2 cans of water, 1 16 oz bag of brown sugar, 2 tablespoons of Worcestershire sauce, 1 tablespoon chopped garlic, 1 tablespoon fresh chopped white onion, and 1/4 cup vinegar. Bring to a soft boil stirring to melt sugar into sauce. Season to taste with chili powder and hickory liquid smoke. I usually start with 1 tablespoon chili powder and 5-6 tablespoons of liquid smoke.
Turn the heat to low and let it simmer for several hours. The sauce will thicken as it continues to cook.
Will stay fresh in a tightly sealed bowl in the refrigerator for several weeks.
TO SERVE
Combine in a small slow cooker meatballs and two packages of Lil' Smokie Sausages. Stir in desired amount of BBQ sauce and stir to coat. Cover and heat on medium to high heat until sauce and meats are heated through. Serve hot directly from slow cooker.