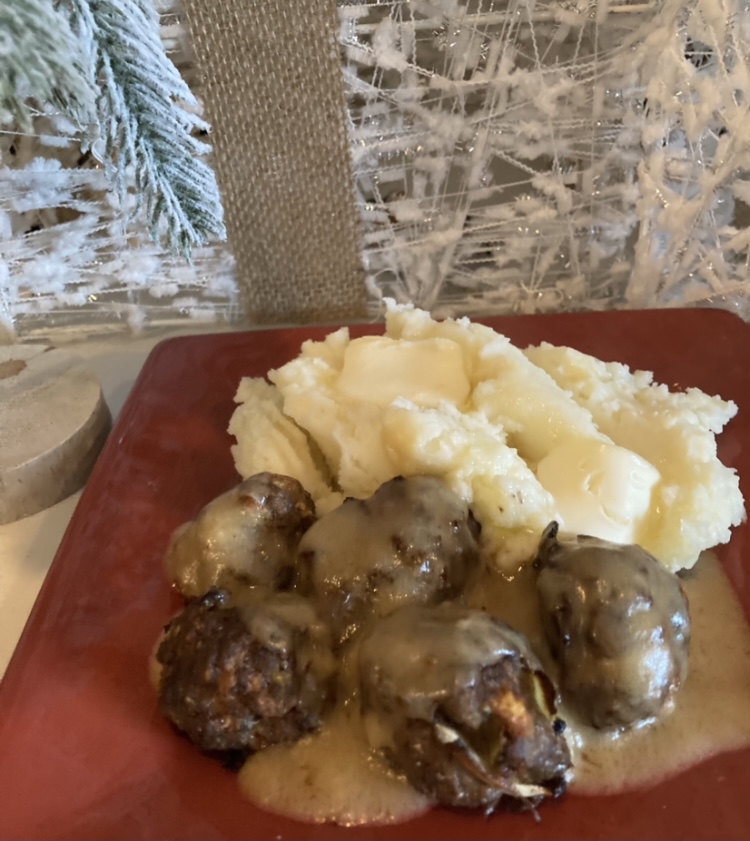 Making meatballs in the air fryer is quick, easy and delicious. I made this version and added gravy and mashed potatoes. I plan on using the method for a variety of meatballs.
Here's how I did this one.
1 pound ground beef
1 egg
1/4 cup milk
1/4 cup finely ground crackers
2-3 tablespoons chopped leeks
1/4 cup chopped red and yellow mini peppers
1/2 teaspoon smokey paprika
1/2 teaspoon spicy sea salt
1/4 teaspoon coarse ground pepper
2 tablespoons oil
2-3 tablespoons flour
1 cup water

In a large mixing bowl crumble beef. Add leeks, peppers and seasonings. In a separate bow beat egg and milk together. Add egg and milk and cracker crumbs to the meat. Use your hands to combine and then shape into desired size meatballs.
Set the air fryer to 400 degrees and preheat, with basket in for a few minutes. Place meatballs in the basket and air fry with lid closed for 14 minutes. Remove basket from fryer. Add a tablespoon of oil to the drippings in the bottom fryer. Heat and stir in 2-3 tablespoons of flour. When it begins to brown add a cup of water. Season with salt and pepper. Once gravy is somewhat thickened laddie it over the meatballs before serving.