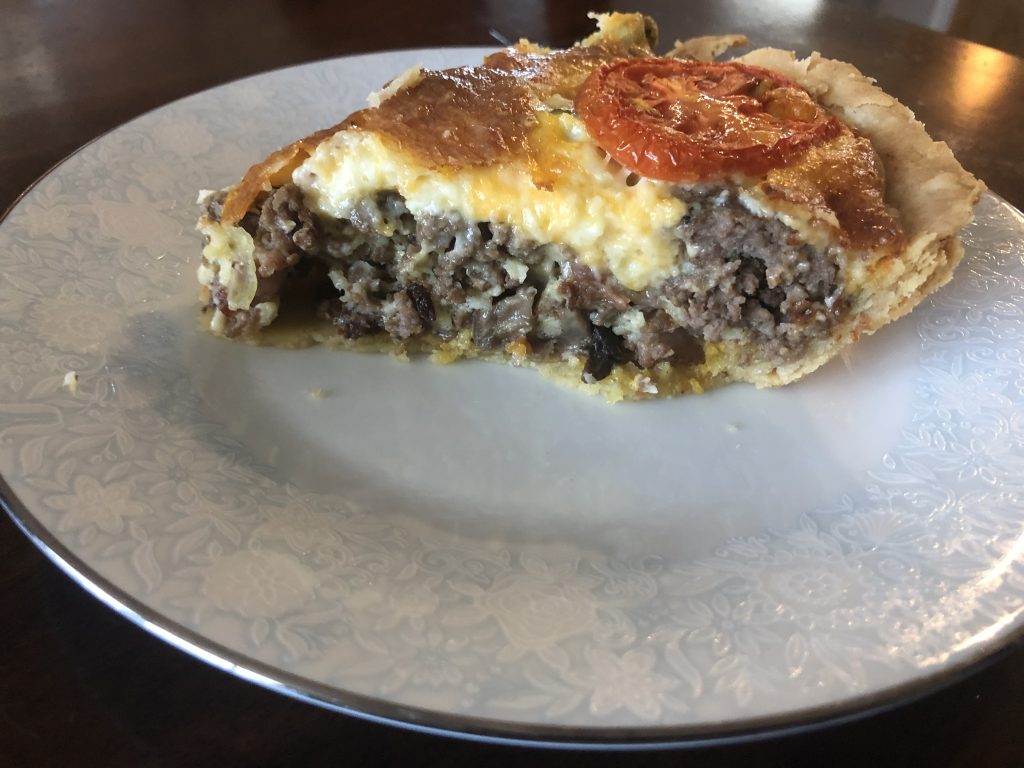 My son Val has perfected the cheeseburger pizza. It's SO good that I asked him to make it for my birthday last year.
It was from Val's pizza that I've done a spin off recipe for this delicious pie.
You'll need a deep dish pie crust. To make your crust cut 1/3 cup of vegetable shortening (I use Crisco) into 1 cup of flour. Add about 1/4 teaspoon salt. I like to use a fork to make sure that the shortening and the flour is finely mixed. Add 3 serving spoons of water to the flour and shortening. You'll do this one spoonful at a time mixing it into the flour after each addition. Continue mixing. Finish mixing using your hands to bring dough together into a ball.
Remember to sanitize your hands or wear rubber gloves.
Place the dough on a floured surface and carefully roll into a 14" circle. Transfer rolled dough to the pie plate. Press dough into the bottom and onto the sides. Trim the edges by pressing with a fork and trimming off excess.
TIP:
I prefer to use a floured Bethany Pastry Cloth to roll out the dough. It is even marked for appropriate measures of the crust you are making. Also, I use a wooden rolling pin and a flour shaker for easy rolling. Keep turning the cloth and shaking the flour over the crust while you roll it to the right size.
To transfer the crust to the pie dish, use a small metal spatula to lift the crust from the cloth and the fold the crust in half. This makes it easier to transfer the crust. Place it on one edge of the dish and then unfold to cover the dish.
FILLING
In a cast iron skillet brown 1 lb. lean hamburger, 4 strips of thick bacon cut into small pieces, 2 tablespoons chopped leeks or shallots, about 6 brown mushrooms (chopped).
Once the meat is browned, drain off excess fat and set aside.
Using a pastry brush liberally paint the inside of the pie crust with yellow mustard. Sprinkle 1/2 cup of grated cheese over bottom of crust. Spoon in the meat mixture and spread evenly inside the crust.
Top meat with sliced dill pickles, covering entire pie.
In a large mixing bowl mix 3 cups shredded cheese, 2 tablespoons flour, 1/2 cup heavy cream or milk and 2 whipped eggs.
Spoons cheese mixture over the meat making sure to cover entire pie. Top with Roma tomato slices. Bake for 50 minutes in pre-heated 375 degree oven.
Let it rest for 5 -10 minutes before slicing into pie wedges.
MORE TIPS:
The easiest way to up the bacon strips into pieces is to stack the slices and cut with kitchen shears.
You can use any kind of onion. I prefer leeks, cut use the one you like best.
The same with your cheese. I use a mixture of cheddar and Monterey Jack, but its not carved in stone. Use what you like.