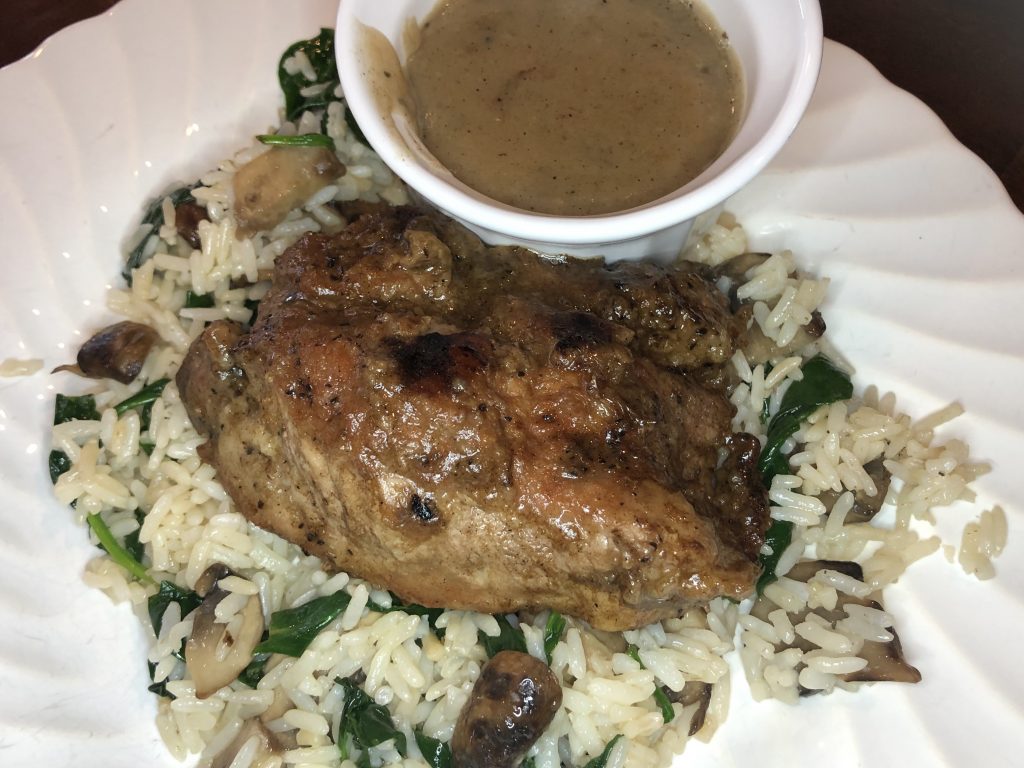 I've made chicken Marsala forever, so I thought today I'd try a pork version. I added a spinach and mushroom rice and Taste Tester Tom says; Winner Winner.
Heres what you'll need.
Two large boneless pork steaks
1 cup of flour seasoned with spicy sea salt and course black pepper
1/4 cup olive oil
2/3 cups chicken broth divided
1/4 cup Marsala wine
1 instant rice cooking bag
2 tablespoon real butter divided
1 cup fresh spinach
4 large baby Bella's sliced
Using the ribbed edge of a meat mallet, tenderize the steaks. Pat the steaks dry with a paper towel. Season each side of steak with course black pepper. Dredge steaks in seasoned flour. Heat olive oil in a deep Dutch oven. Place steaks in hot oil and sear on both sides.
Add 1/2 of broth and wine. Cover and turn heat down to medium. Check occasionally and turn meat. Let simmer until meat is tender. As liquid cooks off, add remaining broth.

Meanwhile: Prepare rice according to package directions. Melt 1 tablespoon butter in sauce pan and sauté spinach and mushrooms until tender. Stir in prepared rice, add remaining butter. Season with sea salt and coarse black pepper.

Remove steaks and set aside. Whisk in 1/4 seasoned flour into liquid where steaks were cooked. Whisk until smooth. Keep whisking while you add water to thin gravy. Season to taste with salt and pepper.
To Serve: Place rice on a dinner plate. Lay steak on top of rice. Serve gravy on the side.