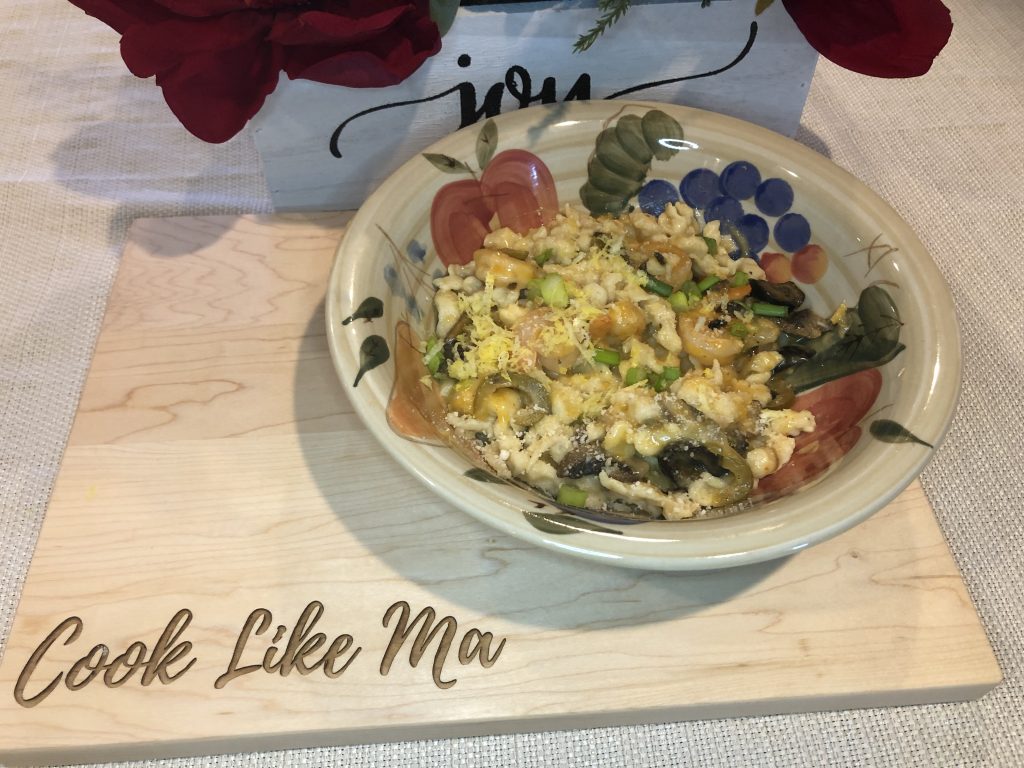 My son Val, Sami and family gave to me for Christmas a spaetzle maker and a new flash to use when taking pictures for this blog.
Today I tried out both gifts and was very pleased with the results.
Spaetzle are small dumplings of a type made in southern Germany and Alsace, consisting of seasoned dough poached in boiling water.
I've learned that they are served with a variety of meats, fish and poultry with an array of sauces. They can also be made as a sweet fruit dish. Stayed tuned in the next few weeks as I try a variety of Spaetzle flavors.
My first attempt is Shrimp Spaetzle. Here's what you'll need.
Basic Spaetzle Dough
Large soup kettle of rapidly boiling water
1 1/2 cup flour
1 teaspoon sea salt
3/4 teaspoons nutmeg
3 eggs whipped
3/8 cup milk
Mix dry ingredients and set aside. In a medium mixing bowl whip the eggs. To the egg gradually mix in milk and flour mixture alternately. Mix until smooth. Place spaetzle maker over the bowling water. Spoon dough into Spaetzle maker cylinder and slide back and forth over slotted base into water. Spaetzle is done when it floats to the top. Scoop out of water with a slotted or wire mesh spoon. Stir in about 1 tablespoon real butter to coat pasta.

Shrimp Sauce
Olive oil
2 tablespoons real butter
2 green onions chopped (set aside chopped green chives for garnish).
3-4 thinly sliced Baby Bella mushrooms
2 doz cooked and peeled medium shrimp
1/4 teaspoon Smokey paprika
1/2 cup chicken broth
10-12 ripe or ripe green olives sliced
1/2 teaspoon lemon juice
1/2 shredded Monterey and cheddar cheese
Spritz a deep sauté pan with olive oil. Add butter and melt. Stir in onions and mushroom and sauté until tender. Season with Smokey Paprika and stir to coat mushrooms and onions. Add remaining ingredients except shredded cheese and simmer on low while you make the Spaetzle.
When Spaetzle is cooked and drained transfer it to a serving bowl and stir in 1 tablespoon butter mixing to coat pasta. Stir in 1/2 cup shredded Monterey and cheddar cheese stir into pasta until melted. Add shrimp and vegetable mixture and mix well.

To Serve garnish with grated lemon zest, Parmesan cheese and fresh chives.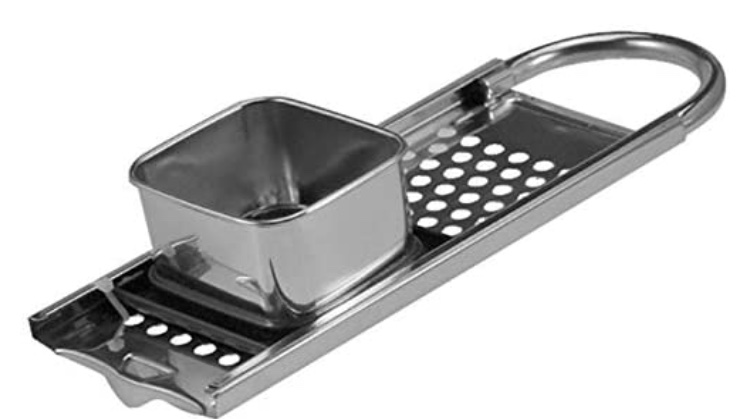 This is the type of Spaetzle maker I used. If you don't have one, the pasta can be dropped through a small hole colander held over boiling water.