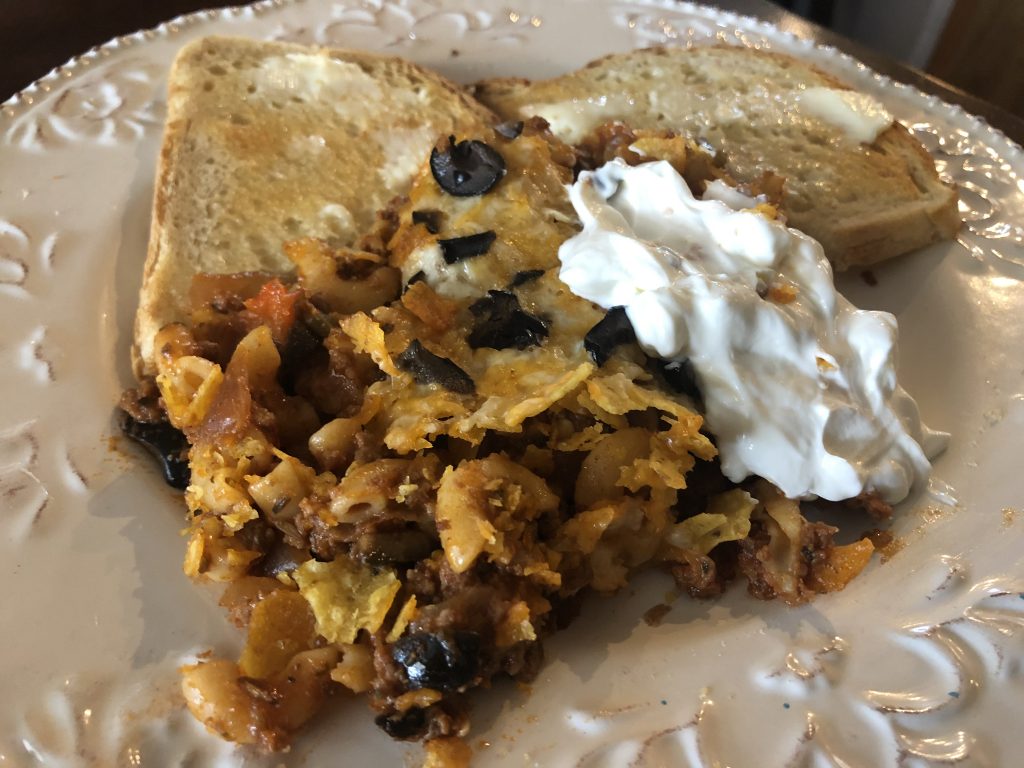 Most of us grew up eating casseroles (hot dishes). They are without a doubt comfort food, especially as the weather starts to turn cooler.
This Taco Casserole has a little bite to it. Just enough to give it that southwestern flavor.
In a 5 quart Dutch Oven heat a tablespoon of olive oil. To the hot oil add 1 pound crumbled lean ground beef, 3/4 cup chopped red onion, 4-6 chopped mini red and orange mini bell peppers, 1 chopped jalapeño pepper with seeds, stem and veins removed. Cook on medium heat until meat is browned and vegetables are tender. Drain off excess fat. Stir in 1 15 oz can of tomato sauce. Season with 1 teaspoon each; spicy sea salt, cumin seeds and dried cilantro. Add 1/2 can black olives chopped. Reserve remaining olives for topping. Add to cups water and continue to cook and boil until sauce thickens.
Prepare 1 cup elbow macaroni according to package directions.
Spray a 5 quart casserole dish with non-stick spray. Line the bottom of the dish with crushed tortilla chips. Top the chips with shredded cheddar cheese.
When macaroni is done, drain and then stir macaroni into hamburger mixture. Evenly spoon meat and pasta onto the top of the chips and cheese.
Top with more crushed chips, cheese and chopped black olives.
Cover and place in a pre-heated 350 degree oven for 30 minutes.

Serve hot dressed with sour cream on the side.