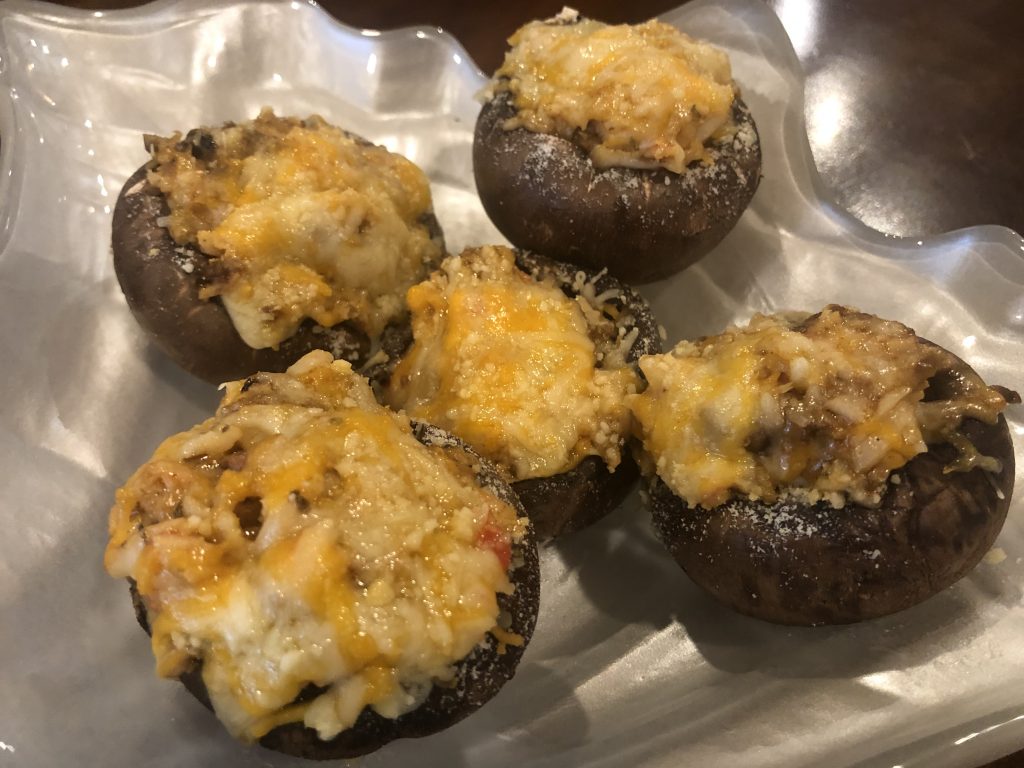 Not too long ago while having dinner out with the family, we ordered crab stuffed mushrooms as an appetizer. The restaurant variety was pretty tasty, but I wanted to see if I could do them myself at home.

This is what I came up with and they were a winner!
I used 12 Baby Bella mushrooms. A Baby Bella is a not yet fully grown Portabella Mushroom. If you can't find Baby Bella's get the biggest Crimini (brown) mushrooms you can find. Wipe the mushrooms down with a damp cloth. Do Not rinse them in water. They will soak up the moisture.
Remove the stems and set aside. Use a small spoon to carefully scrape out the fins from inside the mushrooms. Discard the fins.
Finely grind the stems in a food chopper. In a large mixing bowl combine the ground stems with 1 cup finely chopped imitation crab, 1 cup shredded Cheddar and Monterey Jack cheese, 1 finely chopped whole green onion, 1/4 cup real mayonnaise, 1 teaspoon lime juice, 1/2 teaspoon Sriracha Hot Sauce, 1 teaspoon ground oregano, 1 teaspoon hot paprika and 1/2 teaspoon spicy sea salt. Mix well.
Using a small spoon, fill each of the mushrooms with the crab and cheese mixture.
Sprinkle the top of each mushroom with more Cheddar/Monterey Jack and top with a sprinkle of Parmesan Cheese powder.
Arrange the mushrooms in a deep baking dish and bake uncovered for 15 minutes in a pre-heated 350 degree oven.

Serve immediately.
TIPS & VARIATIONS:
Make sure the mushrooms you select very firm with no splits.
To change from appetizer to main dish you can substitute 2 large Portabella Mushrooms in place of the Baby Bella's. Increase the crab meat by 1/2 cup. Fill the Portabella's with the crab filling , sprinkle with cheeses and bake at 350 degrees for 15 minutes. Do Not overcook.