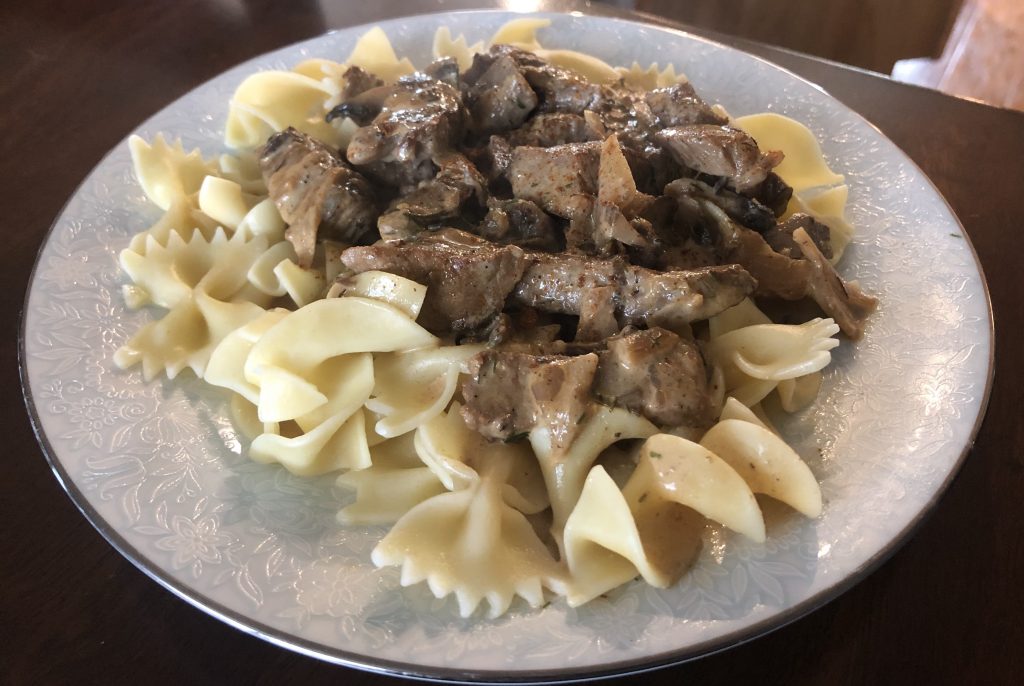 This Beef Stroganoff is just too good! Simple and delicious. A lot of stroganoff recipes use sour cream. Not this one. Instead use fresh heavy cream. Again: It's just so good. . .
I used two small tenderloin steaks. First I patted them dry on both sides with a paper towel. I sprinkled both sides with fresh ground sea salt and fresh ground black pepper. Cut the steak into small strips.
Heat two tablespoons of vegetable oil in a large skillet. I use cast iron, but a good heavy skillet will do. When the oil is very hot start searing the meat on both sides. Remove from skillet and set aside in a bowl.
Melt 2 tablespoons real butter in same skillet over medium-high heat. Add 1 chopped shallot and sauté until tender. Scrape bottom of the pan and add sliced brown mushrooms. Sprinkle with salt and pepper and sauté until liquid evaporates. Add 1 cup beef broth, then 3 tablespoons of brandy. Simmer until liquid thickens and just coats mushrooms. Stir in 1 cup heavy cream and 1 tablespoon Dijon mustard. Add meat and any accumulated juices. Simmer over medium-low heat until meat is heated through but not over cooked. Stir in 1 tablespoon chopped fresh dill and 1 tablespoon Hungarian Paprika or any hot paprika. Season to taste with salt and pepper.
Serve over flat egg noodles prepared according to package directions
TIP:
It's ok to prepare the noodles while stroganoff is simmering. You can easily reheat by placing them in a colander and pouring boiling water over them.

You can add a little butter to the noodles if they seem dry.

An easy way to cut the steak is to cut it in half or thirds lengthwise. Turn entire steak diagonally and slice off thin strips. Use a large kitchen knife to do this.

If you don't have fresh dill, it's ok to use dried.