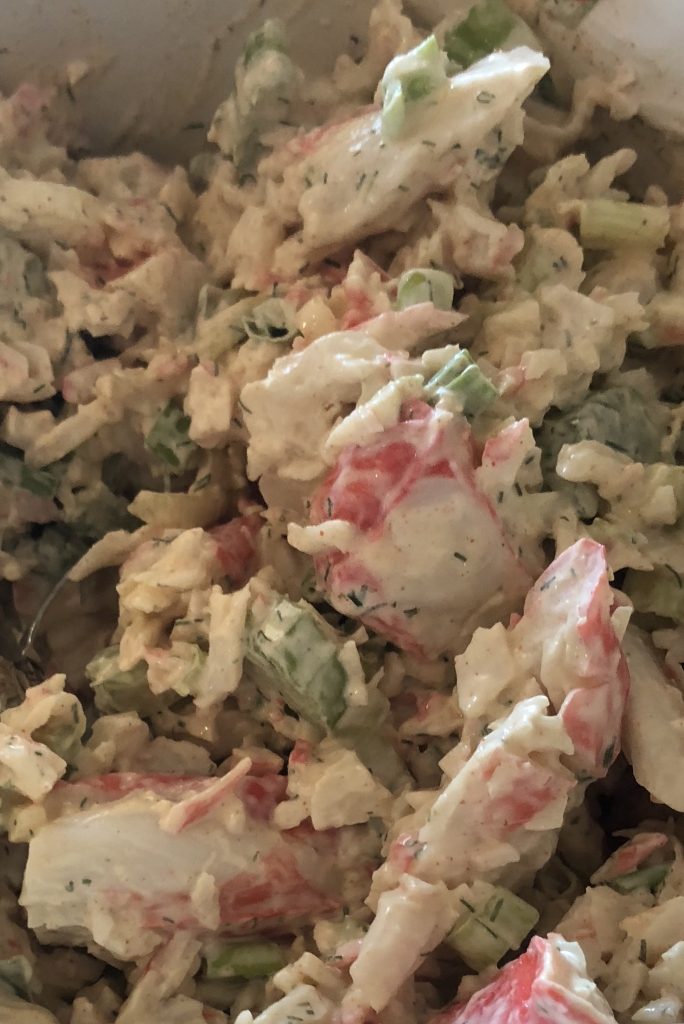 Fresh homemade crab salad is delicious. You can buy crab salad at a deli if you like, but fresh homemade is far better and so easy to make.

In a large mixing bowl cut into small pieces 1 pound fresh cooked crab or imitation crab. After you cut it into small pieces shred it a bit with a fork. Squeeze onto the crab the juice of 2 large limes and mix well.
To the crab add 1 stalk of finely chopped celery and 2 chopped green onions. Mix well.
Stir in 1 small One-serving carton of plain Greek yogurt and 1/2 cup mayonnaise and mix well.
Season to taste with sea salt, fresh or dried dill, Hungarian Paprika and red pepper flakes. Mix well and chill.
TIPS:
I usually use the imitation crab. It freezes well so I can keep it on hand.
I like the Hungarian Paprika's taste but any hot paprika will work. I rarely use plain paprika.
Its ok to use bottled lime juice. Use 1 tablespoon for each lime. If you use the little squeeze bottle lime, use the entire bottle.
This dish is great eaten as a side salad, but it also works well as a dip. I like to serve it with pita chips, but any thinner cracker would work.
If the salad doesn't seem moist enough, add more mayonnaise a little at a time until it seems right to you. You may have to add more seasoning, but you be the judge.

VARIATIONS:
Sometimes I add small cooked and peeled shrimp to the crab. If they are bigger, cut them in half,