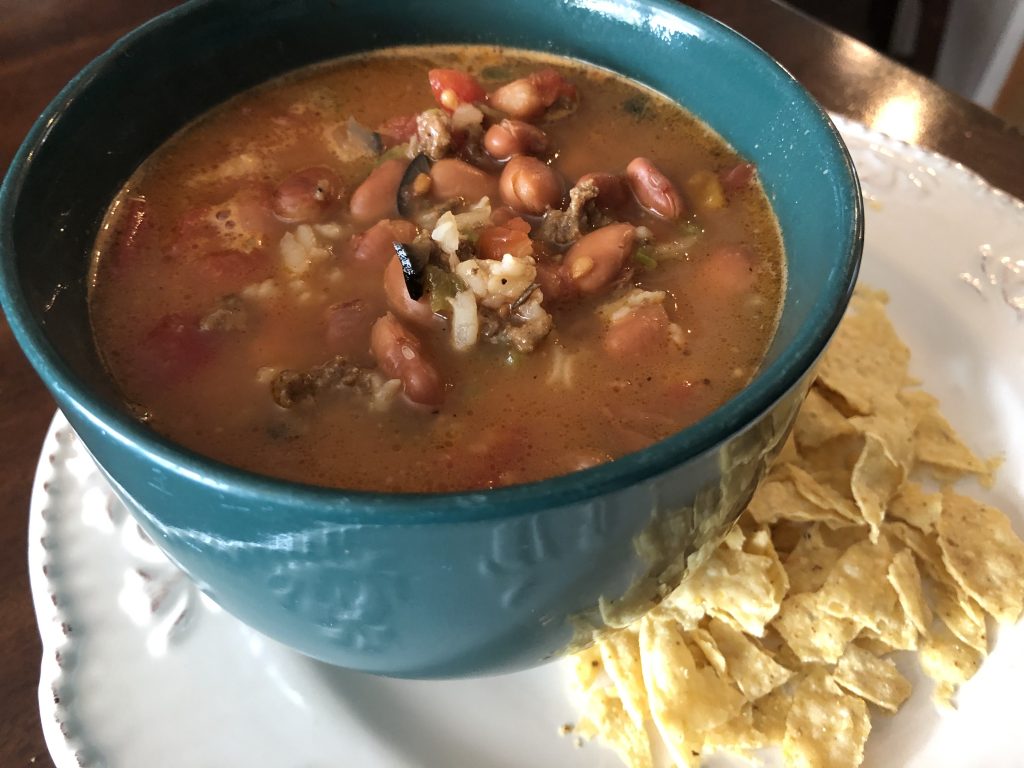 I know it's hot outside but fall and soup weather will soon be here. Honestly I love a good soup no matter what time of year.
I fancy myself as somewhat of a soup chef. I like to combine things to see with what I come up. This is one I concocted today. It's a winner!
In a flat bottom cast iron Dutch oven or heavy soup kettle brown 1 pound lean ground beef, 1/2 cup chopped white onion. 1 cup chopped green, yellow and red bell peppers mixed. When beef is cooked, drain off any excess fat.

Add to the beef 1 small can tomato sauce, 1 14 oz can crushed tomatoes, 1 14 oz can pinto beans including liquid, 1 small can sliced black olives, 1 cup cooked white rice, 3-4 cups beef broth. Bring to a rolling boil and turn heat down to medium.
Add to the soup 1 cup shredded Mexican blend cheese. Stir to melt cheese. Season with 2 teaspoons spicy sea salt, 2 teaspoons sriracha hot chili sauce, 2 teaspoons chili powder.
Cover and simmer on low heat for several hours. This gives the soup time to cook down a bit and for the flavors to blend.
TIPS:
I used pinto beans because I had them on hand. I think black beans would be good too.
I keep on hand the 10 cup boxes of organic broths. Once opened , the unused portion keeps well in the refrigerator.
Add more or less of the seasonings as you wish. I was pleased with the amounts listed here, but you might like it more or less spicy.
Serve with crumbled tortilla chips .