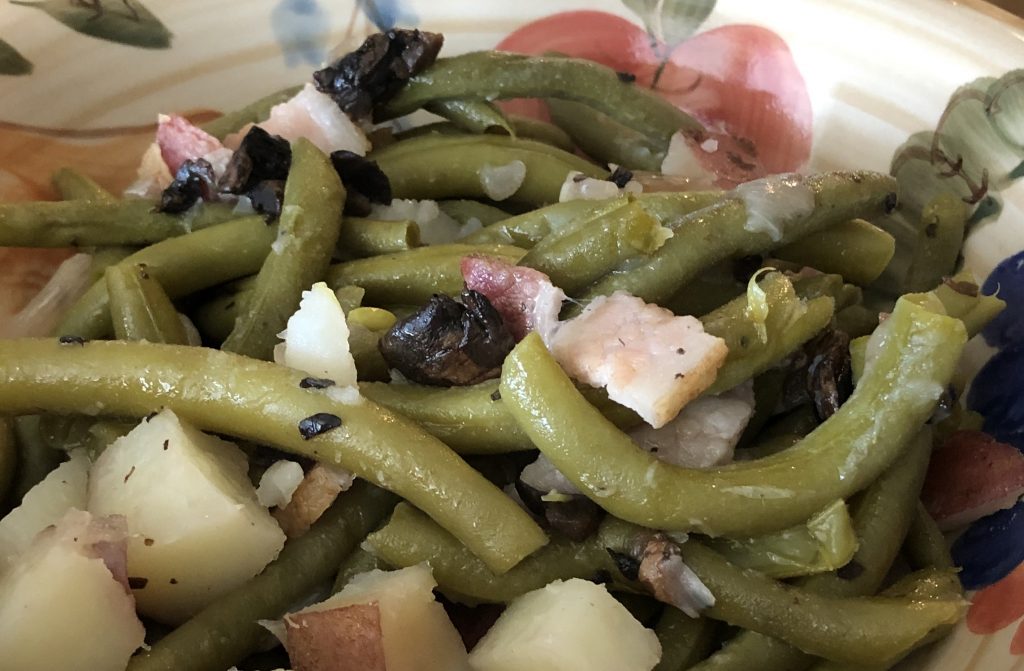 You have to love it when fresh vegetables are ready. There's nothing quite like fresh from the garden right into the pan.
I was lucky enough this season to find organic grower JB Bemis from Golva, North Dakota. He not only grows some of the tastiest produce but he delivers it right to your door. If you are in this area you can find him on Facebook.
One if my favorite fresh dishes to make is green beans, with bacon, red potatoes, brown mushrooms and shallots.
I use a deep steamer pot to prepare this dish. Put water about 2/3rds deep in the pot. Turn it on high to start to boil. In the steamer rack place 1 1/2 pounds of fresh green beans that you have washed and trimmed. Add 3 pieces of uncooked thick cut bacon cut into small pieces, 1 small shallot peeled and chopped, 6 brown mushrooms chopped and 1 medium red potato (skin on ) cut into small cubes. Add some sea salt. Place steamer rack on top of pan containing boiling water. Cover with the lid, turn heat down to medium and let it steam for 25 minutes or until vegetables are tender.
TIPS
The dish is best with fresh vegetables. I've tried it out of season with frozen beans. It was good but not as good.
I use a good size steamer kettle. For this I prefer one where the steamer rack sets above the water and isn't submerged. A lid with a vent works best. I also like copper pots best.
Although I use shallots in my recipe, it's fine to use white onion as a substitute.
The easiest way to cut the bacon is to stack 3 pieces one on top of another and use kitchen shears to cut off bite size pieces right into the pan. You can separate the pieces with a fork.
Please don't try serving these beans Al Denti. To taste like a true southern dish the beans need to be tender and to have soaked up the Smokey flavor of the bacon and the sweetness of the shallots.