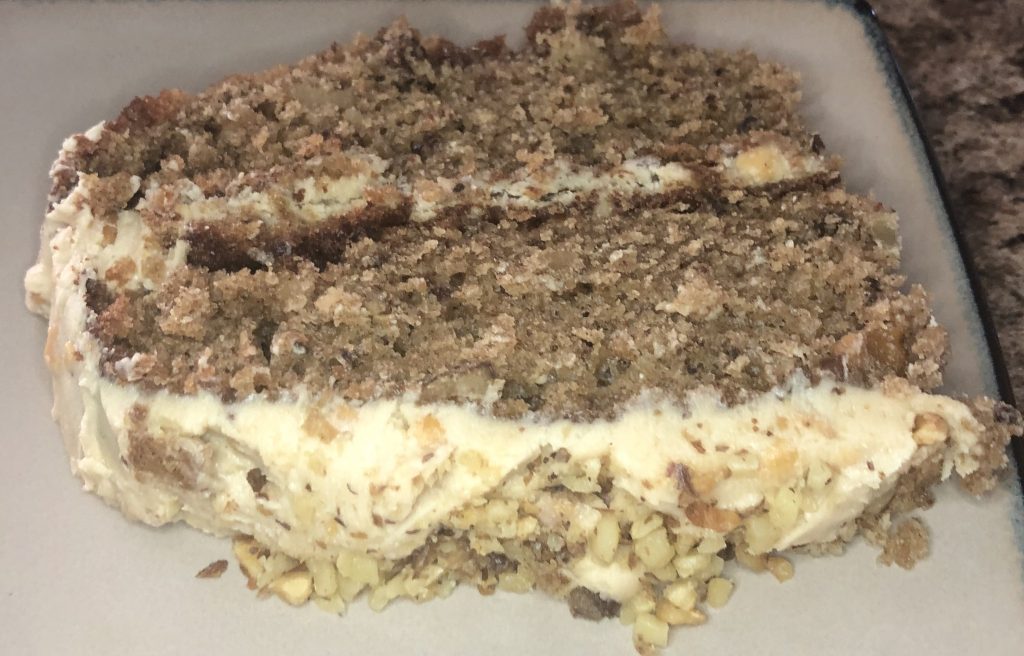 One of my favorite cakes has always been a spice nut cake with peanut butter icing. My sister in California; Ann Krouse used to make it. When I got hungry for it here in North Dakota I decided to give it a try myself.
I didn't have Ann's recipe so I winged it. It turned out great.
Here's what you'll need.
3 1/2 cups sifted cake flour
1 teaspoon baking powder
1 teaspoon baking soda
1 teaspoon fresh ground sea salt
3 tablespoons cinnamon
1 teaspoon ground ginger
1 teaspoon crystallized ginger
1/2 teaspoon ground cloves
1 3/4 cups packed dark brown sugar
3/4 cup vegetable oil
3/4 cup cinnamon applesauce
4 large eggs
2 teaspoons vanilla
1 cup sour milk or buttermilk
1 cup coarse ground walnuts
1/2 cup ground walnuts.
1 cup soft real butter
1 cup chunky peanut butter
3 cups powdered sugar
1/2 teaspoon salt
2 tablespoons milk
Preheat oven to 350 degrees. Prepare two 9 inch springform pans by spraying with non-stick spray. Cover the bottom of each pan with parchment paper cut to fit the pans.
In a mixing bowl mix together flour, baking powder, baking soda, salt and spices. Set aside. In a stand mixer using paddle attachment, beat together brown sugar, oil, applesauce and eggs. Stir in vanilla and milk. Continue mixing and add a little at a time flour mixture. Fold in chopped nuts.
Divide batter equally between two prepared pans. Tap each pan on a solid surface to level.
Place pans side by side on center rack of the oven for 30 minutes. Test by piercing the center of cakes with a wooden dowel or butter knife. It will come out clean if cakes are done.
Remove to wire racks and cool completely.
Icing:
In a stand mixer beat together butter and peanut butter. Gradually add powdered sugar, stir in milk and vanilla.
Turn cooled cake onto serving dish and liberally ice the top of first layer. Turn second layer onto top of first layer. Ice the top and sides of cake. Top with ground walnuts.
TIP:
Make sour milk by adding about a teaspoon of lemon juice to fresh milk.