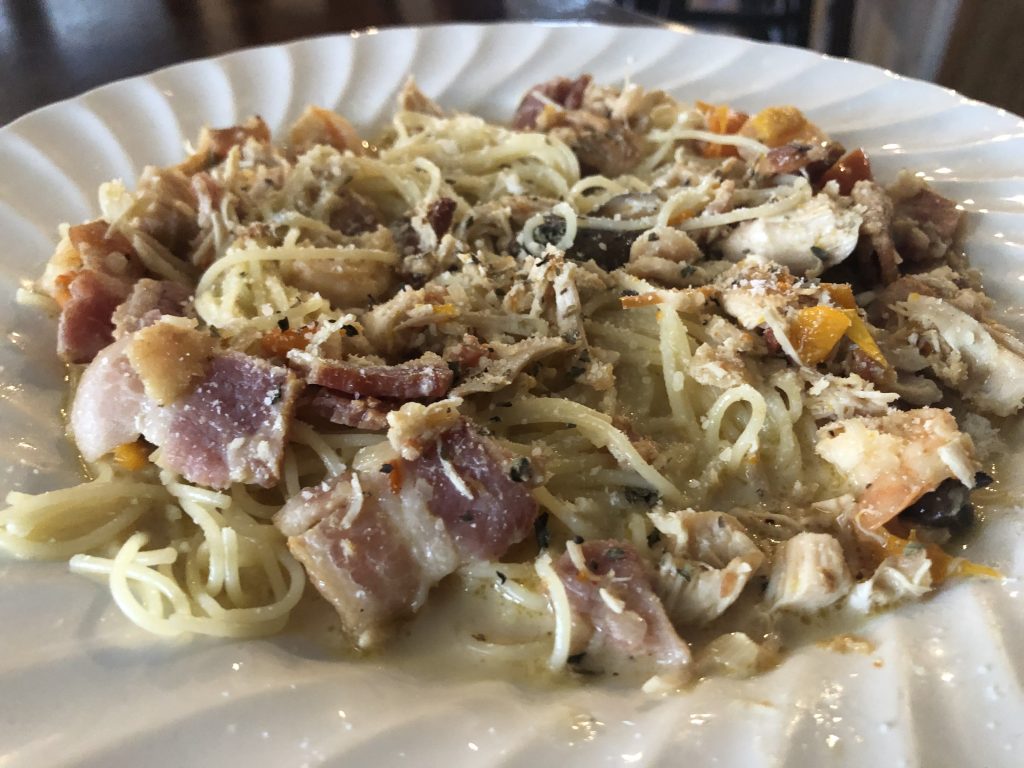 This is one of those dishes that I just started building to see how it turned out. Taste Tester Tom is a big fan of angel hair pasta so I started with that in mind.

In a 5 quart Dutch Oven brown 4 slices of thick cut hickory bacon cut into bite size pieces. Add 4 boneless skinless chicken tenders also cut into bite size pieces. Continue to brown chicken and bacon until well browned. Stir in 1 cup small cooked and peeled shrimp. Add 2 cups chicken broth and 1 cup water. Reduce heat and add 4 diced mini red and yellow bell peppers, and 1 very thinly sliced baby Bella mushroom. Season with 1 1/2 teaspoon Slap Ya Mama regular heat Cajun seasoning, 1 teaspoon dehydrated onion, 1 teaspoon spicy sea salt and one bay leaf . Cover and simmer for 1 hour. Add 1 tablespoon real butter and stir until melted.

Prepare according to package directions 1/2 of a 16 oz bag of angel hair pasta.

Remove bay leaf from pot and stir in 1/2 cup sour cream.

Spoon over pasta. Garnish with dried basil, Parmesan cheese and a dash of lemon juice.